How To Use Google for a Free Reverse Phone Lookup (2022)
We are all familiar with the scenario when we receive a phone call from the number we don't recognize. The chances are that it's only a mistake or a scammer, but what if this is not the case? The person calling could really be anyone – from your boss, colleague or a friend whose number you don't have saved in your Contacts. In this situation, a simple Google phone number lookup phonebook search can help you out and reveal a lot of information about the person who called.
Instead of pondering over who called you or missing a potentially important call, you can identify the person behind the number and determine whether you should return the call or not.
The process of finding the caller's name and even address is definitely easier and cheaper for landline numbers, but you can also track down the information about cell phone numbers, although it's a bit trickier.
Fortunately, the Web nowadays provides a lot of tools for performing a reverse phone lookup. The favorite search engine Google is without a doubt the best free resource you have at your disposal and genuinely, a goldmine for discovering the owner of a phone number. But first...
What Is a Reverse Phone Number Lookup
Just as the name implies, a reverse phone lookup is a way of tracking a number and finding information about the owner, no matter if the number is connected to a landline or a mobile phone. Usually, you will also get an address along with a name of the person to whom the number belongs to.
The easiest and the best way to do a reverse phone lookup is by simply typing the number into the search engine. The most popular search engine Google, back in the day had an advanced directory – the Phonebook Operator, with lots of phone numbers listed in it. However, after receiving tons of complaints and requests for removal from folks who didn't want to be on such a list, in November 2010 Google decided to shut it down.
Luckily, you can still do a free reverse phone lookup with Google, but the process is a little bit more challenging. Nowadays, there are also some other free reverse phone lookups, such as different websites and services, but also social media.
One thing to keep in mind is that you shouldn't pay for a reverse phone lookup service. All the information you need are already available across the Web. Still, you will run into websites that charge for this kind of information. Don't let this fool you as these sites have access to the same data you can find elsewhere on the Web.
Remember that if you can't find the information about the owner of the number, neither can they, even if you pay them.
Free Reverse Phone Lookup With Google
The fact that it pulls information from more than trillions of pages on the Web makes Google phone number lookup the best tool for doing a completely free reverse phone lookup. Now that you know this, the question remains: How can you lookup a phone number for free by using Google?
You will find the process to be rather simple if you follow these few easy steps:
In the Google search field, type the phone number with the area code included and with the numbers separated by hyphens (for example (123)555-6789).
Press enter or click Google Search to see the results. If you're lucky enough and the owner has used the number somewhere on the Web, there will be traces on forums or other websites and you will easily find the person who it belongs to.
If you don't get what you're looking for, try writing the phone number differently, such as without the area code in parentheses or without the hyphens. Certain websites store the number in different ways, so you don't want to miss this step. Try different combinations because you might miss some valuable information if you don't do so.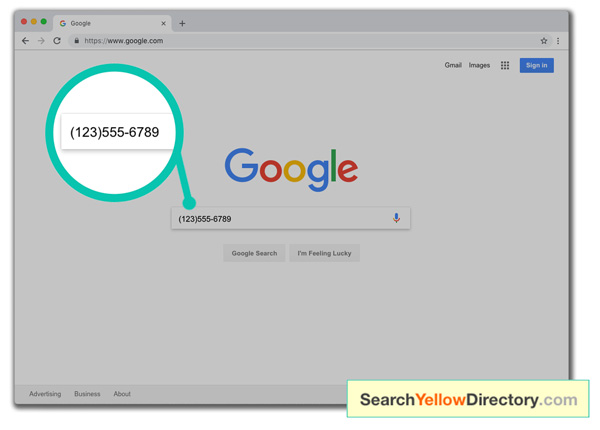 Usually, the first results that are going to pop up in the search page are the phone directory websites. Things were different and much easier in the days of Phonebook Operator, but since the Google changed the way it lists phone numbers, this is your best shot now.
Anyway, the number who called you can belong to either:
A business
A private household (a landline number)
An individual (cell phone number)
If the number is associated with an actual business, you are in luck as it is likely that it will show up among the first few search results. Companies need and want to be found, so a reverse phone lookup for a business number will almost always give you at least the name and the address of the business.
If the phone number is connected to a private household, you will get the name of the owner, but the address won't be attached. Searching for the owner of a landline phone number is pretty simple, providing that the number is attached to the PSTN (public switched telephone network). This means that the landlines are listed in phone companies' phone books, unlike cell phone numbers.
Free Reverse Cell Phone Lookup
If someone has been calling you from a cell phone, information will be a little trickier to find. However, in case a person has placed their number on their social media account, business page or anywhere else on the Web, the listing can be found with a simple Google search, no matter how much time has passed since it was posted.
Since a central database for cell phone numbers doesn't exist, you will have to dig around a bit and alternative search engines are quite useful resources for finding a person behind a certain cell phone number. In case you haven't heard so far, there are countless niche search engines out there. Yes, as a general search engine, Google is useful in most situations and most information you need can be found on it. Chances are sometimes you won't find what you are looking for on Google and that's when niche search engines will come in handy.
Doing a reverse cell phone lookup is undoubtedly one of those situations. In this regard, you will find people search engines to be exceptionally valuable. They search and recapture only information that is related to people and this undeniably includes cell phone numbers.
This methode allows you to do a completely free reverse phone lookup with name. To do a reverse cell phone number lookup on these search engines, simply type in the phone number or the person's name (if you know it). To refine your search and find even more relevant information, put quotation marks around the name. Another clever, yet relatively successful way to find a cell phone number is a Google search by username. Most people have the same username on multiple platforms and if the person you are looking for has entered their phone number along with the username, it will show up in Google's query.
Can You Google Search a Phone Number
In situations where you know the name of a person, you can use Google to search for a phone number or an address for free. This can be done by typing the person's name and surname along with the zip code into Google's search bar. Let's say that you need Jane Doe's phone number. You would need to type ''jane doe 97203'' into the search bar and then hit Enter.
Conceivably, this search can bring back a phone number, address and a Google Map directions to the person's residence. This is possible only if a person whose number you are looking for has made their address publicly available.
How to Remove Your Information from Google Phone Directory
The fact that Google doesn't have a public phone book listing anymore, doesn't mean you can't still request a removal of your information from its directory.
Go to Google Legal Removal Requests page, click Submit a Legal Request in the bottom of the page and follow the instructions to have your information removed.
Deleting your personal information from Google's directory doesn't mean that you have removed them from elsewhere they might be stored on the Web.
Other Free Reverse Phone Lookup Options
Google might be powerful, but there are situations where you will have to consult some other sources to discover who is the person behind the number that has called you.
For this purpose, you will find social media and numerous free tools and websites to be pretty useful.
Free Reverse Phone Lookup on Facebook
Until recently, Facebook was also an excellent place for doing a free reverse phone lookup. Where Google couldn't help you find a phone number associated with an individual, Facebook often could.
Unfortunately, after the Cambridge Analytica data scandal, Facebook shut down this option, but it's still worthwhile mentioning how the feature worked. If a phone number was associated with an individual's Facebook profile, you would see it in the first row when typing a number into the search box. Surprisingly, it was also possible to find someone using their phone number even you're not Facebook friends or if they hid it from the public.
A setting that allowed people to be looked up by their phone number was enabled by default, although a lot of people weren't aware of this.
Of course, this feature wasn't impeccable and didn't always work as some people have disabled it and others have gotten a new number and never updated it on their Facebook account.
Free Reverse Phone Lookup Tools and Services
If all the other attempts to track down a phone number fall flat, you could try using a special reverse phone lookup service as a last resort. Good news is that most of them are free, although there are some that charge additional fees.
The essential thing to keep in mind about these tools and websites is that you should probably use more than one to confirm information. The fact is that there is a chance that the data you get this way will be outdated or wrong. Combining multiple reverse phone lookup services means that you can cross-reference the data found on them and increase the likelihood of getting the most accurate information.
Some of the free services for tracking down who the phone number belongs to are known to do more than a decent job if the Google comes up empty-handed. Here are some of the largest and the best amongst them:
1. WhitePages.com
This free reverse phone lookup website has been around for more than two decades and it associates a phone number with the owner's name and address if the information can be found in the phone book, which is not the case for most phone numbers.
Other freely available information are the geographical location of the place where the number is registered and the phone company associated with it. This information is accessible for both landline and cell phone numbers and can give you a reasonably good idea of who the caller is.
Nevertheless, there is one downside. You won't be able to find any information if the number is unlisted or private. Fortunately, White Pages database contains millions of registered numbers and provides a great deal of information about the source of any phone call.
An exceptionally easy-to-use interface allows you to get the results by just typing in the phone number in the search field and clicking Enter or the magnifying glass button. Note that if the number is tied to a cell phone, you will get information on the zip code and geographic area only, but for further insights, you will have to pay a premium subscription fee.
2. AnyWho.com
This website offers you a name, an address and a map on the source of the phone number, but if you want additional insights, there is a fee.
Again, you can't find anything on the unlisted numbers but can search international numbers, not just the ones in the USA.
3. Truecaller
As a completely free app, Truecaller can be used directly from your iOS or Android device. Used by more than 250 million users, this app provides worldwide reverse phone lookup coverage and the installation process is quite simple. Once installed, Truecaller has a great feature that identifies unknown phone numbers and alerts you to potential spam.
There is one downside though. To use Truecaller in the first place, you will have to sign up, but it's entirely free and you can even do it via your Facebook, along with other sign in options. It's important to note that by signing up you are allowing anyone to identify your number, which you might not like if you want to protect your privacy.
4. Spy Dialer
The incredible thing about Spy Dialer is that it is a completely free option for a reverse phone lookup that doesn't have a paid version. Just by copy/pasting the desired number, you will get the full name associated with it in a blink of an eye. It can also show you the address information and a map with a general location based on the three-digit area code.
In addition, a reverse phone lookup with Spy Dialer offers information on how long a person has had their phone service and shows the possibility of a number being associated with a cell phone versus a landline. While you might not find this information that useful, you never know when and for what reason you will need it.
There is a slight chance that someone's information on Spy Dialer are outdated if the person has moved in the meantime. The company that owns it states that the information it holds are gathered from publicly available data and different address books contributed by users. Good news is that you can remove your info from the Spy Dialer's database for free in case you don't want people to have access to them.
5. Phone Lookup.com
Although it can find only a small percentage of numbers and can't identify unlisted numbers, Phone Lookup allows you to get the name of the caller but also find the exact address.
One thing that this tool has and none of the other similar tools offer is the commenting system. In other words, it allows you to see what other people have commented on that number. This is a valuable feature that helps you in detecting scammers or people who have already contacted others with that same number.
6. Cia-App.com
If you have ever received a call from a hidden number, you know how annoying that can be. Really, what is someone's good enough reason for hiding their number in the first place? Anyway, Cia-app will put an end to this and help you detect the true identity of the caller.
You can install it on your Android or iPhone. At the same time, it allows you to see the number and real caller identity before answering and block that number from calling you in the future.
Most importantly, it lets you enter any phone number and track down a full name, address and more information on the owner of the number if they are available.
7. Reverse Lookup
Within just a few seconds, Reverse Lookup App pulls up names and locations associated with the specific phone number.
This app acts like a phone book by allowing you to save numbers to your Contacts, setting up your phone to send received calls to your voicemail and even making calls from it.
However, to get information on the live caller, you have to spend $2 on its Reverse Lookup PLUS option. You can, however, use a free version for manual entries and it most cases, this will be enough.
Is Reverse Phone Lookup Always Successful
No, it's not. Nevertheless, with so many methods and techniques outlined in this article, your chances of identifying the owner of the phone number that called you are dramatically increased. However, a phone number search by using a Google is not flawless. First and foremost, the information you find with the help of a search engine may not always be accurate. More importantly, if the phone number is not listed or if it's a temporary number, looking at Google won't give you any answers. After all, a lot of people like to keep their information private and share their number only with the people they trust the most.
So, does this mean you shouldn't do a reverse Google phone lookup, social media or free tools? Absolutely not. This is a safe, quick, legal and free method and in most cases, it will work for you perfectly.